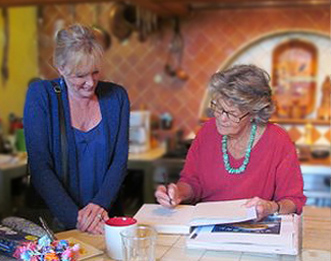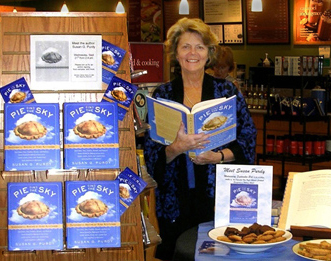 Susan's Award-Winning Books
Pie in the Sky
Best Seller – Western Independent Booksellers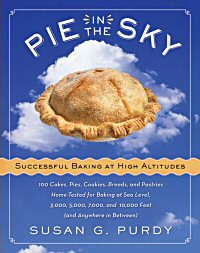 Over 100 cakes, pies, cookies, breads, and pastries home-tested for baking at sea level, 3,000, 5,000, 7,000, and 10,000 feet (and anywhere in between).

Baking should be a piece of cake, but for those who bake at high altitudes, it can be difficult and often discouraging — cakes collapse, fruit pies fail, and cookies crumble — because most recipes don't work at high elevations. In this groundbreaking definitive book, prize-winning author Susan G. Purdy offers the first-ever traveling cookbook with tested, foolproof recipes for baking cakes, pies, cookies, muffins, and breads that succeed at sea level as well as at all high altitudes!.

Each recipe's ingredients are presented five ways (in a single easy-to-read chart): at sea level, and at 3,000, 5,000, 7,000 and 10,000 feet, and they're guaranteed to work. No more hit-and-miss tests or frustrating calculations.

Buttermilk Chocolate Layer Cake, Bourbon-Pecan Pie, Braided Challah, and Blueberry Muffins will come out perfectly no matter where bakers live. In addition, armchair travelers will enjoy sharing the author's adventures with her test-kitchen-on-the-move...up and down mountains, visiting friends in high places and interviewing professional pastry chefs across the country. Excitement, humor, and delectable recipes await on every page.

"Susan G. Purdy's high-altitude baking book should be standard NASA equipment."
— Astronaut Buzz Aldrin, Apollo 11 Lunar Module Pilot
"...A major contribution to culinary literature...a much-need and invaluable book containing information not available anywhere else..."
— Shirley O. Corriher
"This book is a must for anyone living anywhere above 3,000 feet who wants to bake successfully again!"
— Maggie Glezer
William Morrow /HarperCollins, 2005 ISBN: 0060522585.

Amazon.com | Barnes&Noble | Indiebound
For autographed copies of Pie In the Sky, contact The Hickory Stick Bookstore.
The Perfect Cake
Baking authority Susan G. Purdy reveals her secrets for a complete range of easy to elegant recipes, giving every home baker an extra helping of confidence. With Purdy at your side sharing her precise troubleshooting tips and clever shortcuts, layer cakes, sheet cakes, sponge cakes, angel-food and chiffon cakes, tortes, and jelly rolls become wonderfully feasible...you will skillfully create everything from a simple pound cake to Old-Fashioned Pineapple Upside-Down Cake, Black-and-White Cheesecake, or Hazelnut Torte, plus you learn simple yet impressive decorating pointers. 150 exceptional recipes.

"The definitive guide to cake making"
—Jean Anderson
"An astonishing cookbook"
—The New York Times
"Purdy's A Piece of Cake, originally published in 1989, has been long out of print, making this revised, reorganized, and retitled edition very welcome. This is really one of the standards on the topic, filled with delicious recipes... Purdy is a perfectionist, and her recipes are reliable and filled with useful tips and suggestions. An essential purchase for any baking collection."
— Library Journal
Broadway Books, 2000 ISBN: 0767905377

Amazon.com | Barnes&Noble | alibris.com
The Perfect Pie
More than 125 All-time Favorite Pies & Tarts.

Who doesn't love a slice of warm apple pie? A wedge of peach pie with a scoop of vanilla ice cream? According to cookbook author, Susan G. Purdy, however, the art of homemade pie baking is on its way to extinction. Purdy's classic pie baking book, As Easy As Pie, (no longer in print) is updated here in a delicious new package with new material. In order to restore the art of pie and pastry making to the everyday repertoire of the home baker, Susan walks readers through each step of the process... with pastry-making troubleshooting hints and tips, freezing and high-altitude notes, and new recipes for reduced fat fillings, pastries (including a no-rolling-pin crust), and a variety of crumb crusts. All of your favorites are here, from Mississippi Mud Pie and Rum-Pumpkin Chiffon to Key Lime Pie, Ricotta Cheese Pie, and a towering Lemon Meringue that is as dramatic as it is reliable.

"Inclusive to a fault, this compendium of more than 125 recipes for pies, tarts, strudels and fruit dumplings makes a handy reference for bakers old and new. ...provides abundant, clearly written instructions. ...Purdy includes an extremely thorough section on crusts, arguably the most difficult aspect of pie making. Basic pastry instructions are excellent, and more complex techniques--such as how to make a lattice top--are covered in depth. Purdy also supplies advice on freezing the various components, and each recipe includes suggestions for advance preparation. In other words, even the pie-phobic have no excuse for not trying their hands at traditional favorites such as Linzer Torte or newfangled concoctions such as Chocolate Honey Chiffon Pie."
—Publisher's Weekly
"Recipes for chiffon pies, tarts, turnovers, dumplings, cobblers, crisps, clafoutis, strudels, and frozen pies fill the pages of this latest contribution from IACP/Julia Child Cookbook Award winner Purdy .... recipes lean toward the traditional (apple, lemon meringue, and pecan), but she also includes more exotic fare such as Fresh Fig Tart with Red Wine Syrup, Velvet Rum Cream Pie, and reduced-fat variations for a number of recipes. Her instructions are easy to follow, and she provides detailed pastry-handling techniques as well as information about equipment and ingredients...this down-to-earth cookbook will encourage beginning bakers and inspire the more advanced. Highly recommended "
—Jane la Plante, Library Journal
Broadway Books, 2000 ISBN: 0767902629

Amazon.com | Barnes&Noble | alibris.com

The Family Baker
Selection of The Good Cook, A division of Book-of-the-Month Club
Award-winning author Susan G. Purdy rescues home bakers with foolproof recipes that are as much fun to make as they are to eat. "My hope is that this book will bring back the fun of family baking and welcome everyone around the kitchen table," she says.

As always, donning her denim apron instead of a white toque, Purdy delivers a delicious collection of innovative recipes that bring out the kid in everyone. The Ice Cream "Sand" Castle and the Peanut Butter "Clay-Dough" are designed to get your kids in the kitchen with you. Other recipes say "Mom's Best," from Apple-Raisin Bread Pudding with Warm Maple Sauce to Old-Fashioned Coconut Layer Cake. Bake-sale ideas include Triple Chocolate-Nut Biscotti and Double Fudge Brownies; for birthday parties make To-Live-For Chocolate Mousse Cake or Three-Layer Chocolate Raspberry Romance Cake with Chocolate Silk Icing.

You'll appreciate The Family Baker's charming, edible decorative ideas, plus advice for correcting common baking problems. Susan's helpful step-by-step diagrams, trouble-shooting tips, and time-saving techniques take the guesswork out of baking. Over 150 Recipes.
"...(One of) my picks for the best cookbooks of 1999...ratings are based on extensive recipe testing performed in the kitchens of Cook's Illustrated."
"This is a warm, friendly collection of personal recipes...it reminds me of a time when bakers played with their food, putting recipes together with a sense of whimsy...This is a professionally written and tested cookbook...a charming collection...".
—Christopher Kimball, Cook's Illustrated Book Reviews
"This is the kind of book you want to give your kids when they leave home. It is great family baking, easy to execute thanks to the tips, techniques and information with each recipe, (which are) goof-proof, and met with unqualified approval...a good technique book."
—The Boston Globe
"...This is one book that will quickly become soiled and dog-eared (the true test of a cookbook's usefulness) as it is referred to time and time again...Purdy takes the guesswork out of baking."
—Christian Science Monitor
"...Here are the recipes you know...in clear, direct language...grab your child by one hand and this book in the other, and start baking...".
—Jennifer Lowe, Los Angeles Times
"Purdy's new book features recipes for all sorts of homey desserts and other baked goods...recipe instructions are detailed and thorough...for all baking collections."
—Library Journal
"...A tempting invitation to bake with your child...a great book to celebrate the opening of the baking season with your family."
—Rosemary Black, New York Daily News
Broadway Books 1999 ISBN: 0767902610.


Amazon.com | Barnes&Noble | alibris.com

Let Them Eat Cake
Nominated for James Beard Best Baking Award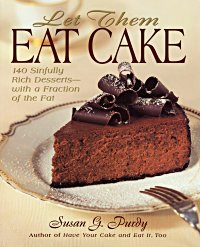 In this authoritative work on fat- and cholesterol-reduced baking, Susan G. Purdy offers an innovative collection of dazzling desserts that will pass any taste test, from the Madly Moka Cheesecake (on the cover) to Fresh Orange Wedding cake or Cream Cheese Marbleized Brownies. All your favorites are here. Do you have to give up desserts forever if you want to eat healthfully? "Let them eat cake!" is Purdy's answer.

"...For those seeking recipes for low-fat sweets, this collection is one of the best."
—The Library Journal
"... Purdy... has truly helped conquer America's battle with the bulge. Her two-year study of ingredients, baking theory, and baking practice paid handsome returns; among her 140 newest translations are recipes such as drop-dead chocolate sauce and chocolate-caramel turtle tartlets, once deemed untouchables in terms of fat reduction. Every treat includes a few "light touch" sentences at the end offering comparison with the original recipe. And just as important are the final chapters on ingredients and equipment; imparting hard-earned knowledge that helps build better baking skills ..."
— Barbara Jacobs
Wiliam Morrow, 1997 ISBN: 0688140394

Amazon.com | Barnes&Noble | alibris.com

Have Your Cake and Eat It, Too
Winner, IACP-Julia Child Cookbook Award
Can dessert lovers have their cake and eat it, too? The answer is a resounding yes. In this prize winning volume Susan G. Purdy shows how to remove excess saturated fat and cholesterol from favorite desserts without using artificial ingredients and without giving up sweet tooth satisfaction. This groundbreaking cookbook unlocks the basics of kitchen science and the culinary wizardry behind low-fat ...Low in fat but high in taste and style, this collection features creamy cheesecakes, soufflés, festive layer cakes with creamy icings, elegant and inviting tarts, pies, crisps, strudel, cookies, biscotti, and ethereal fruit desserts. There are also quick breads, coffee cakes, scones, and biscuits, muffins, waffles, and pancakes. ...Indulge yourself with Chocolate Buttermilk Cake or rich-but-easy Mocha Pudding Cake, make flaky pie crusts and a never-fail unsinkable Chocolate Soufflé.

Each recipe includes a detailed nutritional analysis, and advance preparation and troubleshooting information. There's helpful advice on ingredients and equipment, instructions for making substitutions, an explanation of the chemistry of fat and cholesterol, and a discussion of "fat theory." An extensive special index identifies fat-fee, cholesterol-free, egg-free, gluten-free, and lactose-free desserts.
"...Susan Purdy has turned her awesome talents to the challenge of changing desserts from a no-no to a yes-yes! Part alchemist, all artist, and tireless pursuer of the perfect, Susan has set the standards of the dessert revolution...".
—Lora Brody
"Richly flavored. Moist. Cloud-light. Creamy...Purdy shows you the way and, with good taste and easy-to-follow recipes, makes low-fat baking and dessert-making, well, richly flavored, moist, creamy..."
—Lisa Yockelson
William Morrow, 1993 ISBN: 0688111106.


Amazon.com | Barnes&Noble | alibris.com

A Piece of Cake
Main Selection, Home-Style Books/ Book-of-the-Month-Club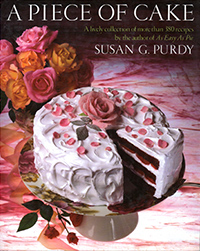 This essential volume for all bakers demystifies the cake-baking process with carefully-tested step-by-step recipes, a fascinating look at the history of cakes, many quotations, and valuable notes on equipment and ingredients, plus handy charts on volume-weight conversions and ingredients substitutions. You will find every type of cake from butter to sponge and foam, including tortes, charlottes, coffeecakes, fresh-fruit cakes, kuchen, and ice cream-cakes.

From simple birthday cakes to a full-on wedding cake complete with diagrams, you have over 100 icing, filling, and sauce recipes, decorating tips and techniques, even directions for mailing cakes! Purdy makes it all a piece of cake! Over 380 recipes; 150 diagrams.
"This is a large, international, and highly accessible collection of classic recipes, understandable theory, and practical technique. Susan Purdy's A Piece of Cake will be just as pleasurable to the armchair cook as it will be useful to the experienced baker. . . a terrific baking book, thorough, readable, and loving."
—Paula Wolfert
". . . this is an exceptional cake book."
—The New York Times
"There's something for every baker here, the pro as well as the beginner. No cook, no kitchen, should be without this definitive guide to cake-making."
—Jean Anderson
"Susan Purdy's no-nonsense approach to cake-making is serious but never weighty — like her wonderful cakes. A Piece of Cake provides both a sound introduction for beginners and many interesting techniques for veteran cake bakers."
—Nick Malgieri
"Purdy's A Piece of Cake, originally published in 1989, has been long out of print, making this revised, reorganized, and retitled edition very welcome. This is really one of the standards on the topic, filled with delicious recipes... Purdy is a perfectionist, and her recipes are reliable and filled with useful tips and suggestions. An essential purchase for any baking collection."
—Library Journal
Atheneum/Macmillan, 1989 Hardcover, ISBN 0689117663
Trade Paperback: Collier Books/Macmillan, 1989 ISBN: 0020360851

Amazon.com | Barnes&Noble | alibris.com

As Easy As Pie
Nominated for T.J.French Tastemaker Baking Award
Main Selection, Cooking & Crafts/Book-of-the-Month-Club
From basic apple to four-and-twenty-blackbirds, this book will entice the beginner and intrigue the experienced pie-baker. More than 30 types of pastry and nearly 250 fillings-both sweet and savory, with a wealth of ideas ranging from quick-and-easy to complex, including classics, family fare, new ideas, and international specialties...for around the kitchen table or elegant entertaining.
"This book tells you everything you might ever need to know about pie-making — both dessert and main course pies – and makes it all As Easy As Pie."
—Maida Heatter
"An excellent source of inspiration...brimming with pastry-making hints and tips like a piled-high apple pie..."
—Chicago Tribune
"Superb...Purdy's manner is intelligent and sensible, whether discussing her method for making pastry cream or grinding nuts, she moves along with ease."
—Publisher's Weekly
Atheneum/Macmillan, 1984 Hardcover, ISBN: 0020360800
Ballantine Books, 1984, Paperback, ISBN 0345320476

Amazon.com | Barnes&Noble | alibris.com