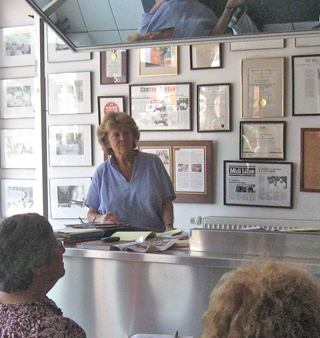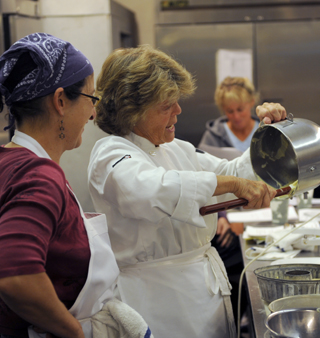 Teaching the Culinary Arts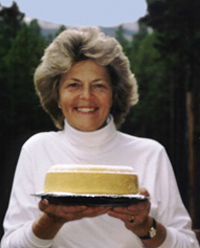 "A culinary educator and CCP (IACP-Certified Culinary Professional), I specialize in teaching baking and the pastry arts. My goal as a cooking teacher is to make these skills accessible to the home baker, to remove any perception of fear-of-baking, to show that anyone can do it.
"When I teach, I like to explain basic food chemistry and fundamentals of technique to remove mystery and magic and replace it with fun, understanding, and a sense of ease.
"The greatest gift I can give a student is the confidence to cook creatively — to make a pie, bread, or a birthday cake, for example, to bake for their family and friends. Sharing food you make with your own hands is a basic act of love, and one that actually empowers the baker, bringing a quick reward (yummy snacks), personal satisfaction (pride in knowing you did it), and praise, (applause, take a bow).
"I have had students tell me that learning to make a simple pie crust with ease has actually changed their life! Of course, it is not that simple, but little things do make a big difference. Learning to bake is a simple pleasure, but one that I believe adds to life's enjoyment."
Partial List, Baking Classes and Workshops
King Arthur Baking Education Center, Norwich, VT

New England Culinary Institute (NECI), Essex, VT

Peter Kump's Cooking School (now ICE), New York

Cambridge School of Culinary Arts, Cambridge, MA

Draeger's Culinary Center, Palo Alto, CA

Epicurious Rice Markets, Houston, TX

Cooks Street School of Cooking, Denver, CO

Silo Cooking School, New Milford, CT

Sur la Table, San Francisco, CA

Williams Sonoma, Boston, Cleveland, Seattle

Kings Cooking Schools, New Jersey

Loretta Pagannini School of Cooking, Cleveland

Dorothy Lane Market Cooking School, Dayton, OH

Jungle Jim's Cooking School, Cincinnati, OH

DeGustibus, Macy's, New York

Las Cosas Cooking School, Santa Fe, NM

Santa Fe School of Cooking, Santa Fe, NM

Sazon Cooking School, Hotel Casa de Sierra Nevada, San Miguel de Allende, MX

Casa de Cocinas, San Miguel de Allende, MX

Partial list, Special Baking Seminars

Bake & Blog: King Arthur Baking Education Center, Norwich, VT

Rhode Island School of Design

Bakers' Dozen, San Francisco

Hahnemann Hospital, Philadelphia, PA

University Hospital Synergy Culinary School, Cleveland, OH

Taste of Provence Cooking School, Mas de Loup, France

Recipe Writing Workshop/ Culinary Journalism Workshop: Cambridge School of Culinary Arts, Cambridge, MA

High Altitude Baking Workshop, Salt Lake City, UT